Presidents Luncheon and Past Players and Sponsors Day this Saturday!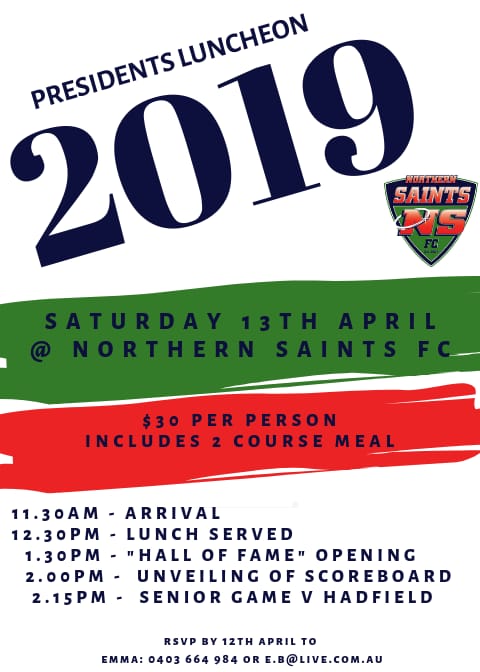 This Saturday is a huge day for the Northern Saints Football Club with our first home game of the season against local rivals Hadfield!
There will be a lot happening at the club with new President Joseph Antonetti hosting the Presidents Luncheon, the unveiling of the new scoreboard, the opening of the club Hall of Fame and Past Players and Sponsors Day!
The schedule for this massive day for the club will be:
11:30 - The Presidents Luncheon with special guest and speakers!
12:30 - Lunch Served.
1:30 - Grand Opening of the Hall of Fame, where the history of all past clubs will be unveiled.
2:00 - The unveiling of our brand new Scoreboard by Peter Khalil.
2:15 - The Seniors game against Hadfield
Tickets for the luncheon are $30 per head including a 2 course meal.
The day also includes the celebration of Past Players and Sponsors Day! Make sure to get along to what should be a wonderful day!