Northern Saints Junior Girls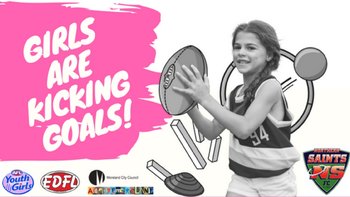 Expressions of interest - Girls Junior Football 2019!
Female and Girls footy in Melbourne and the EDFL is growing at a fast pace.
Since the the beginning of our Girls Development Clinic run this year at Northern Saints FC, our junior girls team numbers for 2019 are starting to form.
We are on track to have under 13's and under 15's and indications are this will significantly increase again in 2020.
With the introduction of the AFL Women's National League, interest surrounding female football has never been greater. This has seen a number of girls who are currently playing in our Under 9's & Under 11's teams see a future for themselves in football and to also to push themselves to strive for greatness in both training and in their games.
As such, we are seeking Expressions of Interest for all girls interested in fielding teams in 2019.
For more information, please contact our NSFC Female Co-ordinators via email: girlsnsfc@gmail.com
Let's Go Girls!
The Northern Saints are running training sessions for girls between the ages of 8-15 on Thursdays at 6:15pm.
The sessions are a great way to build your football skills and fitness whilst having a great time and making new friends.
Hope to see you there!