Jessie Kazazes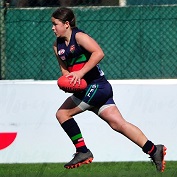 Jessie Kazazes (under 12's)
Jessie was 1/3 of the all female centre half backline, alongside team mates Caitlin and Sienna, that local football experts nicknamed, the Great Wall of Fawkner, due to its reliability, resilience and discipline. Jessie roamed off the half back line gracefully, giving her team great drive out of defence. An accomplished sportsperson already, Jessie also played Representative Cricket in 2020, to go along with her many footballing accomplishments.
After coming runners up in 2019, Jessie and team were looking to go one better in 2020.
Nickname and why? Jess (because it's shorter than Jessie)
Preferred position? Centre Half back
Weird rituals before or during a match? None
Favourite ever AFL footballer and why? Boomer Harvey- great footballer
Biggest influence on your football so far? Dad
Favourite football memory? Playing my 50th game
Best player you've played with and against? Billy
Funniest team mate? Ibby Z
Most reliable team mate? Caitlin & Sienna
Smartest team mate? Caitlin
Favourite past time/hobby? Cricket & PS4
Favourite band/musician? Coach Gioupas singing before games
3 people you would invite to a private dinner, dead or alive? LazarBeam, Mr Beast & The Queen
What you miss most about not being able to play footy?
Game Day & being around teammates at the club