Dante Serra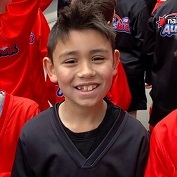 Dante Serra (under 10's)
Dante Serra graduated from Auskick in 2019 and was enjoying his first full preseason under legendary coach, Russell Dowling before the shutdown.
Nickname and why? No nickname
Preferred position? Anywhere
Weird rituals before or during a match? No
Biggest influence on your football so far? Friends
Favourite football memory? Playing at the AFL grand final 2019
Best player you've played with and against? Christopher Gravina
Funniest team mate? Adrian Vescio
Most annoying team mate? My brother Valentino
Most reliable team mate? Harrison Senior
Smartest team mate? ME
Favourite past time/hobby? Building LEGO
Favourite band/musician? Anything to dance to.
Celebrity crush? I'm not sure
3 people you would invite to a private dinner, dead or alive? My grandfather, The Rock & the inventor of LEGO
What you miss most about not being able to play footy?Being with my friends.