Aaron D'Cruz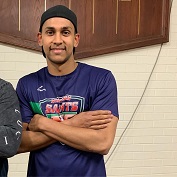 Aaron D'Cruz
Aaron made a great impression in his first season last year after moving across from St. Albans, not only for his playing ability, but also for his leadership and attitude.
Aaron exemplifies the type of people we need at the club to lead our new generation of local football heroes.
Nickname and why? Frozone, because I'm mates with Jason aka (Mr Incredible)
Preferred position? Wing/Half Back
Weird rituals before or during a match? I meditate the morning of a match
Favourite ever AFL footballer and why? Luke Hodge because he was an amazing leader and captain probably one of the best. He thrived on the big stage and when games were up for grabs you just knew he'd take his game to another level. As courageous and tough as they come. Generational player!
Biggest influence on your football so far? Dad - Wouldn't be where I am today both on and off the field without him.
Brett Kennerley - Gave me a new lease on footy, helped me become a better leader and find the love for the game again
Favourite football memory? Winning my first flag with some of my best mates
Best player you've played with and against? Played with - Tim Jenkins and Tamer Abdallah. Played against - Lachlan Baddely
Funniest team mate? Nick Bruno! Never met someone so in love with them-self 🤣
Most annoying team mate? Matty Bernardo - says and does some strange things
Most reliable team mate? Pistol
Smartest team mate? Slim pickings here 🤣 But would have to say the big polar bear, Jason
Name the one team mate least likely to pay when eating out? Thomas Kosmak loves a free drink so i'm sure same applies for food
Favourite past time/hobby? Watching or playing sport and PS4
Favourite band/musician? Coldplay
Celebrity crush? Megan Fox/Scarlett Johansson
3 people you would invite to a private dinner, dead or alive? Kevin Hart, Michael Jordan, Tom Brady
What you miss most about not being able to play footy? Miss being part of a community where I can be both with my mates and play the game i love. It's been a part of my life for so long now, feels a bit empty without it