New Senior Coach - Brett Kennerley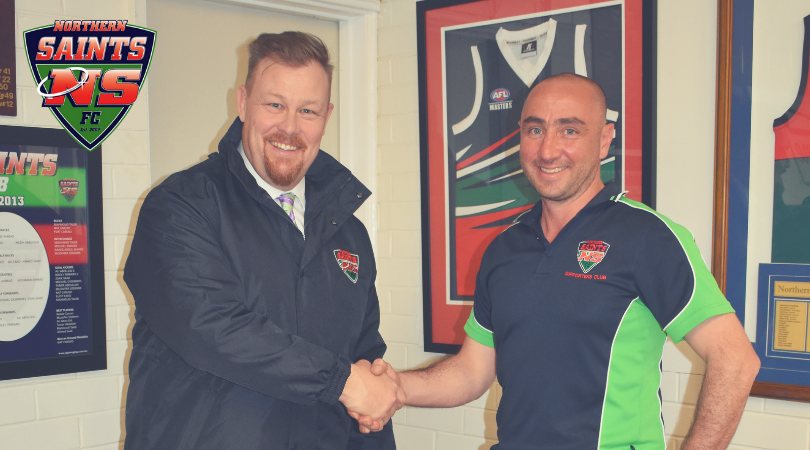 The Northern Saints Football Club are thrilled to announce the appointment of Brett Kennerley as our new Senior Coach for the 2019 EDFL Season.
Kennerley comes to the Saints with an impressive coaching history which includes:
- Senior coach at North Sunshine FC - 2 years
- U19 coach at Avondale Heights FC
- Director of Coaching at Flemington Colts FC
- Academy Coach at North Melbourne FC (AFL)
- Senior Womens Coach at Pyramid Power FC
- Identifying new playing talent for the VFL team Coburg Lions FC
- Academy Coach at the Northern Knights FC
Aside from the coaching aspect of Kennerley's history one of the most important roles which won over the NSFC committee is Kennerley's enormous contribution to the disadvantaged and Indigenous youth in Queensland. This has included:
- 9 years of coaching at all levels at Pyramid Power Football Club in Queensland
- Club President for 5 years which eventually extended to a league Life Membership for services to football
- A nomination for Australian Of The Year in 2015 for his work with young people
Kennerley will also assist NSFC in building its girls and womens teams in which he has experience in building and nurturing female football at previous clubs .
The selection committee and President Joseph Antonetti say Kennerley represents the change needed to lead the build of the football program at the Northern Saints and to work with the club to raise our profile in the local community and EDFL .
Saints president Joseph Antonetti says: "We are delighted to welcome Brett Kennerley to our club. It is our vision that Brett will be a long - term coach of our football club as we build toward sustained success, both on and off the field. He will be afforded the time and the resources to lead the Northern Saints and we will support him every step of the way as a club."
"I knew after our first conversation, Brett was an ideal candidate for the job. He has a very holistic approach to his art, and is one who thinks more of the bigger picture. His previous experience in the administration of football clubs is a reflection of that. In Brett, we feel we have found someone not only who can be a mentor to our next generation of senior footballers, but an example and leader to the whole Northern Saints community."
"Kennerleys appointment follows an extensive recruitment process and it was important that we selected the right coach with the right vision and passion to lead this club."
Senior Pre-Season training commences on Wednesday 14th November at 6.30pm. Training be held at Charles Mutton Reserve every Monday and Wednesday up until the Christmas break.
Keep an eye out on the website for further details which will be announced shortly.
Go Saints!