Important Notices:
Pre-Season Training:
Seniors, Reserves, U19's U17's
Tuesday's & Thursday's starting 16th Jan 17.
New Players Most Welcome
Please advice all teammates without Facebook.
Football Camp
Saturday 18th February @ Anglesea with former Geelong Strength and Conditioning Coach taking the day. All Players MUST attend.
Join the $200 Club. Click here
Good Sports Club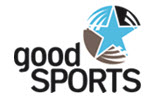 The Saints are proud to be a part of the Good Sports Club initiative. In 2010 it achieved Level 1 accreditation and in 2017 will be seeking Level 2 accreditation.