Important Notices:
Upcoming functions:
AGM - Monday 17th October @ Mutton Club Rooms 7.00pm
We need good, honest, caring, competent people to join the board. We have a number of vacancies now so we need you.
Join the $300 Club. Click here
Good Sports Club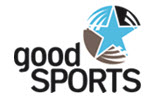 The Saints are proud to be a part of the Good Sports Club initiative. In 2010 it achieved Level 1 accreditation and in 2014 will be seeking Level 2 accreditation.