Important Notices:
Upcoming functions:
Sportsmans Night:
Brings you AFL LEGEND, Wayne Carey
Duel Brownlow Medalist, Mike Sheenans No. 5 Best ever in last 25 years
Greg Williams, Push up King, Jake King
Hosted by EDFL's One and Only, Matt Pillios
All Inclusive Tickets - $110 or table of 10 for $1000
Food - Spit Roast - Chicken, Lamb - Salads etc.
Beer, Wine & Softdrinks
SILENT AUCTION - MEMORABILIA FOR SALE
Ladies Day
Tickets go on sale Friday 22nd May. Please encourage your female friends & family, girlfriends, wives or partners to attend. A truly wonderful event just for the Ladies, not to be missed!
Saturday 20th June @ 1pm - Social Rooms.
Join the $300 Club. Click here
Good Sports Club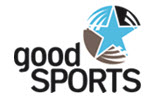 The Saints are proud to be a part of the Good Sports Club initiative. In 2010 it achieved Level 1 accreditation and in 2014 will be seeking Level 2 accreditation.