Important Notices:
Pre-Season Training:
Seniors, Reserves, U19's U17's
Monday 14th Nov (Every Mon & Thu) Until Thu 22nd Dec.
Due to the cricket club training on both ovals on a Thursday night until xmas we will be training at a different location MOST Thursday nights.
This Thursday our second session we will be training at Parker reserve at 6.10.
A lot of oval to use , car parking and toilets.
Please advice all teammates without Facebook.
See you all on Monday night training at the club ALL Monday's.
https://www.facebook.com/photo.php?fbid=1182187825199538&set=gm.1852886698276009&type=3&theater
Daniel Foley
Join the $300 Club. Click here
Good Sports Club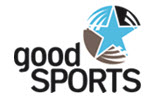 The Saints are proud to be a part of the Good Sports Club initiative. In 2010 it achieved Level 1 accreditation and in 2014 will be seeking Level 2 accreditation.