Important Notices:
Senior & U18's Training
Tuesday & Thursday Nights @ 6pm
Practice Matches.
14th March - Cheltenham @ CMR (u18, 2nd, 1sts)
21st March - Fitzroy (VAFA) @ GOSCH's Paddock (1st & 2nds)
28th March - Glenroy @ Glenroy (u18, 2nd, 1sts)
Join the $300 Club. Click here
Good Sports Club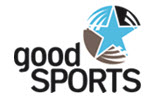 The Saints are proud to be a part of the Good Sports Club initiative. In 2010 it achieved Level 1 accreditation and in 2014 will be seeking Level 2 accreditation.