Important Notices:
Upcoming functions:
Presentation (Seniors/Reserves/U18's)
Mutton Reserve Fawkner
Tickets $50 each inc food & drink (beer, wine and soda pop)
Call Peter - Chucky - Stevens 0412 718 850
Poker Night
Mutton Reserve Fawkner : 25th Sept @ 7pm 7.30pm start
$40 buy in (Includes chips and food) Non players $15
Join the $300 Club. Click here
Good Sports Club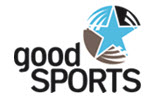 The Saints are proud to be a part of the Good Sports Club initiative. In 2010 it achieved Level 1 accreditation and in 2014 will be seeking Level 2 accreditation.