Important Notices:
Upcoming functions:
Sat - 13th August - DJ Jazzy Jez, presents - Old fellas cuttin shapes! - Party Night....At club rooms from 645pm. Free event.
Friday 16th September - Presentation Night - Reggio Calabria Club. Details shortly.
Join the $300 Club. Click here
Good Sports Club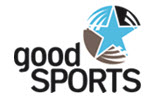 The Saints are proud to be a part of the Good Sports Club initiative. In 2010 it achieved Level 1 accreditation and in 2014 will be seeking Level 2 accreditation.