Important Notices:
Upcoming functions:
Friday 22nd July - Bingo / Karaoke Night Club Social Rooms
Thursday 4th August - Sportsmans Night
Saturday 6th August - Saints V Haddy - Fawkner Ammos Re0union and Moomba Park Re-Union
Thursday Night Meals:
Every Thursday night from 7.30, meals are served. This is open to the public and other members of the club. The menu is small, but the food is great, and all are welcome.
$15 adults
$10 16yo and under
$50 Families of 4
$5 kids meals.
Join the $300 Club. Click here
Good Sports Club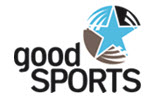 The Saints are proud to be a part of the Good Sports Club initiative. In 2010 it achieved Level 1 accreditation and in 2014 will be seeking Level 2 accreditation.